Online retail stores are at the cusp of revolution when it comes to online shopping. In the past couple of years, we have seen the rise of online shopping due to its convenience and ability to provide customers with thousands of products under one roof. This is the reason why sites like Flipkart and Amazon have become e-commerce giants and are currently ruling the online shopping spectrum in India.
Retail buyers have plenty of choices when it comes to buying virtually anything from online retail stores. The small retail shop owner has limited choices. The old system still prevails in which he or she places order with the local distributor and gets products delivered to his or her doorstep or they go to wholesale markets and buy what they need. Wholesale b2b online marketplaces that target such small retailers are yet to meet the needs of small retailers the way the retailers hope for. Therefore, in this blog, I'll be telling you about some of the best online b2b marketplaces in India.
What are Online B2B Marketplaces?
Well, a B2B marketplace is just like any other marketplace with one crucial difference, that is, the customers are companies. That is why products and services are purchased to be used in companies. Consequently, B2B marketplace has its own laws and rules.
For example, in B2B marketplaces, prices are different for each customer. Loyal customers or customers who place large orders can expect huge discounts. B2B marketplace reminds me of cooperation rather than trade. Many B2Bs exchange services and products.
Marketing campaigns in B2B marketplace are very different from that of B2C as well. Their aim is to inform potential clients about their services and win potential clients over with the help of arguments and facts. It's a momentous process that requires efforts and investments in SEO, SMM, and email marketing.
B2B marketplaces are developing online quickly. Today it's much easier to Google the services you need for your company than to ask your friends or check advertisements in papers. So, if you want to create or boost your B2B, you will definitely need a sophisticated and attractive website for the start. Then you should automate the majority of your B2B processes because if you try to do them manually you will lose all your time and sleep, unfortunately.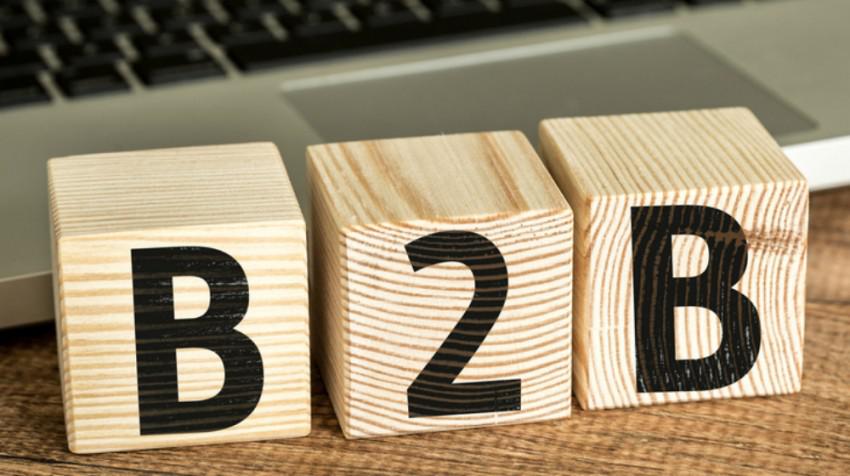 Why B2B Marketplaces?
Business-to-business (B2B) ecommerce market is gradually maturing across the world, whereas in India it is still at the nascent stage. Experts have predicted that India's B2B industry will be worth Rs 45 lakh crore by 2020. And according to SME finance companies, this online industry is six times bigger than business-to-consumer (B2C) in India.
India's yet-to-mature B2B ecommerce industry with large untapped potential of growth presents a great opportunity to companies who want to enter this market. From a handful of companies in the past (Alibaba, IndiaMart, Trade India), now there are all size of startups that cater to all size of buyers, be it a small online marketplace reseller to big chain of hotels.
This has made the job of procuring raw materials in bulk quantity and at bulk prices much easier for sellers and resellers. And, this is why it is important for you to know which are the proper b2b online marketplaces in the nation.
India's Online B2B Marketplaces
Mentioned below are some of the best online b2b marketplaces in India: –
1) AmazonBusiness.in
Amazon, the US-based ecommerce giant started its B2B online platform in 2015 to fulfill the demand of business customers who were looking for the seamless 'Amazon buying experience' while procuring supplies for their work.
Currently available in two cities, Bangalore and Mangalore with plans to expand in other cities, you can become a part of this members-only site if you have a valid business license.
Payments can be made through NEFT/RTGS transfer, Credit/Debit Card and Net-banking and cash-on-delivery service is available for Bangalore-based buyers. The marketplace also offers free credit service (up to 48 days) in association with HDFC Bank and ICICI Bank.
Its main USPs are the brand name 'Amazon' and ease of buying.
Their primary categories include: Health & Personal Care, Home Medical Supplies, Beauty, Food & Beverages, Cleaning & Laundry, Mobile & Accessories, Office & IT Peripherals, Home, Kitchen & Dining products at wholesale prices and in bulk quantities.
2) Power2SME.com
Founded by R. Narayanan in 2012, Power2SME calls itself the first 'Buying Club' for SMEs. The company was formed with an aim to empower SMEs by making it easy & affordable for them to procure raw materials.
In 2014, the company raised Rs. 42 crores in Series C round of funding from Accel Partners, Inventus Capital and Kalaari Capital. In January 2016, Chairman of UIDAI Nandan Nilekani along with the existing three investors poured more capital into Power2SME during Series Dround of funding.
In April 2016, the B2B firm's revenue was $10 million and the average order value was Rs.25 lakh! This is why the company is confident about breaking even by next year.
You can register for free or fill up the Request for Quote (RFQ) form with your business requirement. The company's sales representative then gets in touch with buyers with proposed rates. SMEs can avail loan facility on request.
Its main USPs are strong investors and high-quality suppliers like LG, Essar, and Indian Oil.
Their primary categories including: Abrasives, Adhesives, Safety, Power tools, Plumbing, Handtools, Power Transmission, Security, Machining, Office Supplies, Motors & Pumps, Medical Supplies, Electricals, Hardware and a lot more.
3) IndustryBuying.com
Established in 2013 by Swati Gupta and Rahul Gupta, IndustryBuying is a B2B marketplace for industrial good and supplies. Regular buyers are offered credit and the purchasing process is quite straightforward.
The startup has grown tremendously with its seller base increasing from 1000 in 2015 to 4,500 in May 2016. Buyer base increased from 40 enterprises and 25,000 SMEs in 2015 to 150 enterprises and 75,000 SMEs in May 2016. Customer visits too multiplied by four times.
The company has raised Rs 87 crores from investors such as Kalaari Capital, Saif Partners and BEENext so far.
Its main USPs are impressive growth & traction and innovative product solutions like ProcMan.
The primary categories include: Lab supplies, LED & lights, Electronics & Robotics, Cleaning, Dimension Measurement, Industrial Automation, Furniture & Hospitality, Lubricants & Oils, Powder & Coatings, and Welding are just 10 of the 40+ categories.
4) Bizongo.in
This B2B marketplace focuses on bulk buying and selling of 'Packaging' materials. Started by Aniket Deb, Sachin Agrawal and Ankit Tomar (IIT Bombay and IIT Delhi graduates) in 2014, the startup found an investor in Accel Partners.
It initially started as a platform for plastic and chemical product categories, but as of now, there are only packaging products listed on the website.
Last heard news about Bizongo's funding was in October 2015, when Accel invested an undisclosed amount in the startup.
Its main USPs are knowledgeable team and ability to adapt with changing business environment.
The primary categories include: Food packaging, Bottles, rigid and protective packaging, Crates, Pallets, Drums, Dustbins, Packaging Bags & Boxes, Flexible films, Pouches and Bubblewraps.
5) JustByLive.com
The newest one on the block, Just By Live is already creating waves by multiplying its network and raising funds in less than a year. The startup is an app-based e-distributor that connects traditional manufacturers to retailers. Thus, by eliminating regular distributors, manufacturers get better margins and retailers get a wide range of products at one glance.
The firm raised around Rs 136 crore ($20 million) in Series A funding from Alpha Capital in January 2016. Just by Live aims to restructure the age-old retail distribution system by modernizing it to fit the current fast-pace ecommerce industry.
Buyers/retailers can access the listed products through JustBuyLive's app, talk to brand teams and get order delivered at doorstep after downloading the app and registering their business. Buyers can also make use of credit facility 'Udhaar by Just Pay' by uploading required documents. If you are a brand owner, then write to brands@justbuylive.com to list your label on the B2B platform.
Its main USPs are unique concept and focussed approach backed by thorough research and experienced team.
Their primary categories include: Grocery, Ayurveda, Dairy, Water, Chocolates & Sweets, Home care, Personal care, Fashion & Beauty, Auto, Appliances and many more.